Smartphones demand increases with the increase in population. The network connection connects the world in the hybrid zone. The hotspot is the feature that helps to connect one device to another in a network. The data connection and Wi-Fi hotspot are available in devices at the setting panel.
Setting > Wireless and networks > Tethering and portable hotspot > Enable it
Most people want high rage data speed. It's essential that our sharing data connection or Wi-Fi can be protected with a strong Password. Authentication can help to protect the network connection and work on high bandwidth. 
In public places like Railway stations, hotels, and malls they provide free Wi-Fi connections to use. The free platform gains the public demand to access the counter. When you ON your Wi-Fi connection portal and view the open connection at the time by enabling you can easily access it on your device. Many free apps are available that can help the users to find the nearby hotspot connection provider having free service.
Find Wi-Fi hotspots using the App
Wi-Fi Map provides the facility to find the Wi-Fi connection. The use of a Wi-Fi map on your device and the best experience of how you can access and use this platform.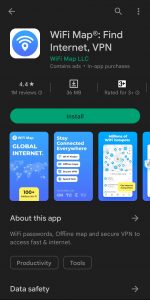 Open the Google Play Store on your mobile device – in your android device open the store app
Click on the Wi-Fi Map option – search on it
Download and install the app on your device- according to the storage accessibility install the app
This feature helps to provide access of Wi-Fi 
Accept the agreement of the app
You are able to view how many Wi-Fi arrivals are available near you – the subscription message display that gives you free service for a one-month duration.
You need to give the details about your online transaction bank that can help to extend and continue the service otherwise you can discard it after the free subscription plan.
On the location of your device – as per your choice choose the location ON mode. You access the location whenever you access the app.
You can view the free Wi-Fi connection; you swipe up and easily access the connector.
Find Wi-Fi hotspots using the Web
Several [Internet service provider] ISP provides free internet service that is easily accessible. The official service provider websites give a subscription plan that users can use. Free Service is provided by many ISPs to promote the business so that users can access the good bandwidth of Wi-Fi on their computer or device. You need to enable the specific name convention provided by the particular malls, restraints as the best advertisement tool.
Most of the users are unaware of the Wi-Fi hotspot that does not work at home but is also available at different locations. Most public places promote our place by giving free service to users. It is a wide area network providing a good bandwidth.